Thanksgiving is a time where you show appreciation to those that matter most to you. At Felt Family Dentistry, we want to do just that. We want to thank you, our loyal customers. To you, here is a note penned from our Roy and Layton dentists.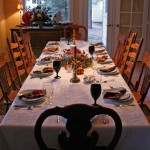 To our loyal patients,
On the fourth Thursday of November, all of us will unite once again for the observance of Thanksgiving Day. Look around. What do you see? Your spouse, brothers and sisters, children,
kin, and friends. Each person you spend time with is a reason for gratitude. The people we surround ourselves with are the people that shape us into who we are today.

Our friend and family, peaceful environment, successful careers, education, the food and water that we enjoy each day, the air we breathe, the sound health we enjoy, and the company we keep are what make life on this planet meaningful. Thank you for letting us be a part of the company that you keep.

From West Haven to Kaysville and beyond, our hearts fill with happiness each time we see each of you. THANK YOU to all of you, our dear dental patients who have become part of us; who trust us to take care of their oral health. We appreciate your patronage, and we value the trust you've placed in us. Thank you for giving us the chance to handle your dental care. It's our pleasure to serve you.
The same goes to our  amazing staff. All of you are a huge inspiration.
To all of you. Thank you. Thank you. Thank you.
With all our good wishes,
Felt Family Dentistry