How does time fly? It seems it was only yesterday when the world celebrated New Year. But you blink, and December is upon us once again. For those of us in Utah, you feel the excitement when the snow starts to fall.
After Thanksgiving, the holiday rush is on and preparation for Christmas begins. You begin preparing your gift list, party plans, New Year resolutions,etc. There are so many things we still need to accomplish before the year ends. With so much to do, we often overlook our health. Especially the health of our teeth and gums.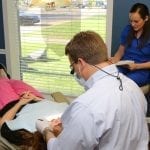 For most of us, the end of the year signals the end of that year's dental insurance benefits. It's not too late to take advantage of discounted or free dental checkups that are already included in your dental insurance premium. You not only get to optimal oral health, but you also maximize your tax benefits, too. You have nothing to lose, but instead, gain something of value – optimum oral health. Flash your winning smile this holiday season. Don't delay. You're only going to get busier as Christmas and New Year approach.
While you're reflecting on the year behind you and admiring the new year ahead, we at Felt Family Dentistry wish you the best. We hope to see you soon at our Weber or Davis County dentist locations.